In general – we have a positive experience of purchasing electronic components through the Aliexpress portal, but in this article we will share the negative impressions.
We buy components for various purposes:
one by one for testing interesting novelties;
development and production of device models;
wholesale at serial production.
In some cases, they are forced to look for the right goods in the markets of Europe and America, but there the cost of goods is focused on wealthy buyers. Most aliexpress offers cheaper, but reasonably high quality goods and satisfactory delivery terms.
In some cases, in the aliexpress network we find products with incredibly excellent properties and incredibly low prices. We treat such proposals with caution. There are extraordinary cases when the goods are brightly offered at such a price that it is not a pity to buy and throw away. We buy this for testing.
The photo shows the Li-Ion 16340 battery:
Packaging and labeling there is no doubt about the quality. Technical characteristics seemed questionable, because there are no Li-Ion 16340 batteries in the world network, which have a capacity of 4800 mAh.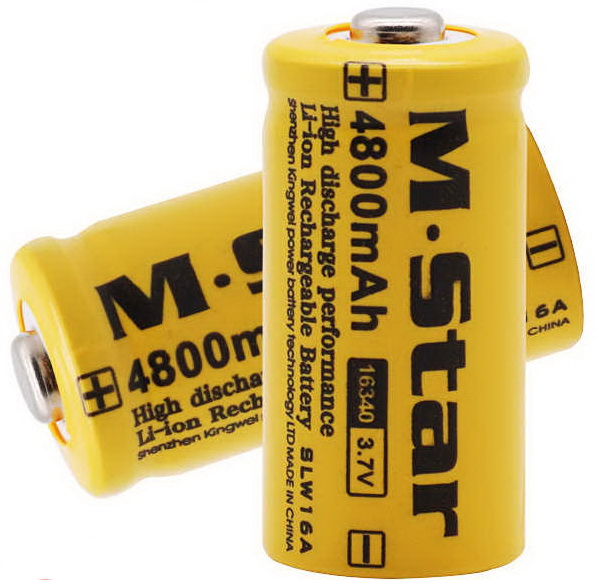 Another analysis confirmed our suspicion of fraud. Source by link: Summary Table of Lithium-based Batteries
Well-known brands offer a 16340 battery with a maximum capacity of 1200 mAh, and the most responsible – only 700 mAh. We decided to check and bought a few items from this seller for about $ 1 apiece. Received without incident and conducted testing.
Script and test results
| | | | |
| --- | --- | --- | --- |
| Step № | The name of the test | The characteristics of testing are obtained | Evaluation of results |
| 1 | Input voltage measurement | 4.07 V | Satisfactorily |
| 2 | Charging to full | Initial voltage 4.07V, charging current from 0.3A to 0A, final voltage 4.176V, duration 25 minutes | Satisfactorily |
| 3 | Discharge from maximum to 3V | Initial voltage 4,176V Load current 0.11A, Final voltage 3VDuration 2 h 38 min | Absolutely unsatisfactory. Actual capacity 300 mAh |
The second cycle of such testing showed even worse results.
Conclusions and recommendations.
Obviously, this store cheats under a good sign.
In order not to be "caught on the hook with cheap cheese", you need to carefully analyze the characteristics and cost of such products and only then decide – to take or not to take.
Dear society!
Subscribe to our Facebook page and you will learn many interesting things.